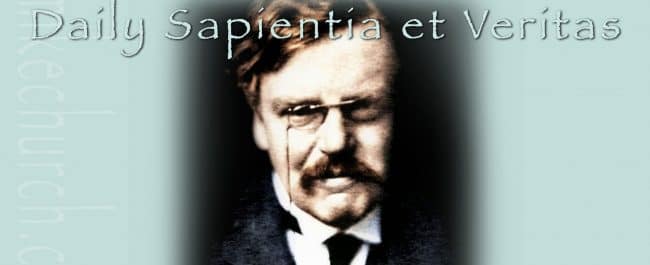 Veritas et Sapientia – Why Being Rigid Is The Only Position The Christian Man Can Hold
Mandeville, LA – This, therefore, is, in conclusion, my reason for accepting the religion and not merely the scattered and secular truths out of the religion. I do it because the thing has not merely told this truth or that truth, but has revealed itself as a truth-telling thing.
The outer ring of Christianity is a rigid guard of ethical abnegations and professional priests; but inside that inhuman guard you will find the old human life dancing like children.
All other philosophies say the things that plainly seem to be true; only this philosophy has again and again said the thing that does not seem to be true, but is true. Alone of all creeds it is convincing where it is not attractive; it turns out to be right, like my father in the garden. Theosophists for instance will preach an obviously attractive idea like re-incarnation; but if we wait for its logical results, they are spiritual superciliousness and the cruelty of caste. For if a man is a beggar by his own pre-natal sins, people will tend to despise the beggar. But Christianity preaches an obviously unattractive idea, such as original sin; but when we wait for its results, they are pathos and brotherhood, and a thunder of laughter and pity; for only with original sin we can at once pity the beggar and distrust the king. Men of science offer us health, an obvious benefit; it is only afterwards that we discover that by health, they mean bodily slavery and spiritual tedium. Orthodoxy makes us jump by the sudden brink of hell; it is only afterwards that we realise that jumping was an athletic exercise highly beneficial to our health. It is only afterwards that we realise that this danger is the root of all drama and romance. The strongest argument for the divine grace is simply its ungraciousness. The unpopular parts of Christianity turn out when examined to be the very props of the people. The outer ring of Christianity is a rigid guard of ethical abnegations and professional priests; but inside that inhuman guard you will find the old human life dancing like children, and drinking wine like men; for Christianity is the only frame for pagan freedom. But in the modern philosophy the case is opposite; it is its outer ring that is obviously artistic and emancipated; its despair is within. – G.K. Chesterton – Orthodoxy